Fate….. dream… together everything comes true!
I am honoured to be the Supervisor and Founder of Victoria Nursery and Kindergarten, and to serve on Hong Kong's many women federations. I have also served as the Chairman of the Eastern District Council, and the Causeway Bay Kai Fong Welfare Advancement Association. I am passionate about my community work, and dedicated towards offering my service to the children, women, and elderly of the society. To be able to establish Causeway Bay Victoria Kindergarten in the Causeway Bay Kai Fong Welfare Association Advancement Bradbury Building was a perfect merger of my ambitions.
Having worked in the educational field for over half a century, I remember my early days in 1965 when we first established Victoria Kindergarten at the Victoria Building. Although the campus was small with only 8 students, we gradually built a reputation and had more and more students enrol. This was the foundation of Victoria Kindergarten. At the same time, I was actively involved in local community work, and was the Head of the Causeway Bay Kai Fong Welfare Advancement Association Evening School, and a member of the Eastern District Women's Federation.




By the 1980's our school was well-established, and through fate we were given the opportunity and land to build our kindergarten and the Causeway Bay Kai Fong Welfare Advancement Association Building. The premises was purpose-built for our kindergarten, while at the same time the building also served as my office for my work as a District Council and Urban Council member.
I have celebrated many milestones at Victoria, and my happiest memory was seeing my daughter, Chief Principal Dr. Maggie Koong, return in 1985 and participate in our school's 20th Anniversary celebrations. She dedicated her life towards bettering early childhood education in Hong Kong, and has served multiple roles in the educational field. Starting as a teacher, she proceeded to become the Deputy Principal, Principal, and Chief Principal of Victoria. She also established the Central Curriculum Team, expanded and opened schools in Mainland China, and opened the first IB through-train primary and secondary school in Hong Kong. Dr Koong soon established her own teaching philosophy and expanded and implemented it in her schools. Victoria not only nurtures students into global and responsible citizens, but also helps teachers develop into capable and professional educators. This fulfils my vision and educational dream.
It has always been my dream to work with children, so I always try to find time to visit them at school. I would like to welcome you to our Victoria family, and I look forward to seeing you and your children at our school.
Ms. Christina Ting, GBS, SBS, BBS, JP
Founder and Supervisor
---
School Supervisor – Ms. Christina Ting's Biography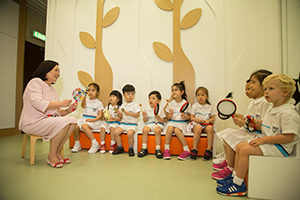 Ms. Christina Ting is the founder and school supervisor of Victoria Educational Organisation, and has been a member of the Causeway Bay District Council since the 70's. To this day, she is still actively serving on multiple committees, including Kaifong Welfare Advancement Associations, Women's Federations, and other community boards and organisations. The positions she has held and is holding, include Chairman and Honorary President of Causeway Bay Kaifong Welfare Advancement Association; Executive Director and Member of the Women's Welfare Club Eastern District; Member and Vice-Chairman of the Hong Kong and Kowloon Kaifong Women's Association; Founder Chairman and Committee Member of the Eastern District Arts Council; Founder Chairman of the Eastern Junior Police Call Activities Committee; Honorary Chairman and Honorary Consultant of the Eastern Junior Police Call; Honorary President and Vice Chairperson of the Hong Kong Federation of Women; President and Chief President of The Hong Kong Island Federation Ltd.; and the Honorary President and Committee Member of The Hong Kong Eastern District Community Association.
Ms. Ting has also served as a Member of the Chinese People's Political Consultative Conference, Shanghai Committee; Chairman and Member of the Eastern District Board; Representative Member of the Urban Council; Member of the Basic Law Promotion Steering Committee; Member of the Election Committee Subsector Elections; and Member of the Hong Kong's 11th National People's Congress Election. Ms. Ting is currently the Hong Kong Representative of the All China Women's Federation; Executive Committee Member of the Shanghai Women's Federation; Director of the Shanghai Song Ching Ling Foundation; Director of the China Children and Teenager's Fund; Director of the China Overseas Friendship Association; and Director of the Jiangsu Overseas Exchange Association.
In recognition of Ms. Ting's contribution to the community, the Hong Kong SAR Government has appointed her Justice of the Peace, and awarded her the Badge of Honour, Bronze Bauhinia Star, Silver Bauhinia Star, and Gold Bauhinia Star. Ms. Ting has also been awarded the Honorary Fellowship from The Education University of Hong Kong. In China, Ms. Ting has also received the Magnolia Award from the Shanghai Municipal Government in recognition of her work in children's welfare and education.