More than 50 years ago, early childhood education in Hong Kong was not significantly valued. Two sisters, however, demonstrated a pioneering spirit in opening the first bilingual kindergarten in Hong Kong against all odds, so they could fully devote their time to the education of young children, offering the nurture and care they deserved early in their lives. Through their hard work, determination, and passion, today, that small kindergarten has grown into an educational body of great renown in Hong Kong. For many years, it has cultivated a lot of competent, outstanding and confident students.

I have the privilege to succeed the legacy of my mother Ms. Christina Ting and my aunt Mrs. Cecilia Lee Ting, who have always been my role models. Building on the strong foundation they have established, I strive to enhance the learning experiences of our students by gradually introducing many changes and innovations, as well as seeking new possibilities for school development. Our services have now ranged from nursery to primary and secondary education, and extended to various regions in Mainland China.
Everyone knows that children are full of potential; however, only those who offer quality education can promise to bring out the best in children. At Causeway Bay Victoria, we combine rich experiences in education and classic developmental theories with the newest scientific discoveries around the world, to provide the best education and the most pleasant learning environment possible for our next generation. Most members of our excellent international teaching team have already obtained their bachelor's or master's degrees. Through inquiry-based learning, we promote international-mindedness and cultural awareness with a strong bilingual foundation. We have adopted the International Baccalaureate® (IB) curriculum since 2006, and became an authorised IB World School in 2012. To further strengthen students' interest in reading and writing and build a solid language foundation, starting from 2013, we have worked with Teachers College of Columbia University to design and implement the "Reading and Writing Project". We actively encourage parents' involvement in children's development and education, and often invite locally and world renowned experts to give parent seminars, as well as organise exchange visits to Mainland and overseas sister schools. No matter where they choose to continue on their education, whether at Victoria Shanghai Academy, the "through-train" school that I founded, or at other primary schools, our graduates are ready achievers, always love to learn and are good at expressing themselves.
We will continue to seek collaborative opportunities with higher institutions and overseas schools and bring the newest and the most effective pedagogy to Victoria. At the same time, we will strengthen kindergarten to primary school transition. Under the leadership of Ms. Ting, Principal Sabrina Lee and I will inherit the spirit of our mothers and march forward.
Inspired by the brilliant history and dazzling achievements, Causeway Bay Victoria Kindergarten and International Nursery is coming to a new era!
Dr. Maggie Koong, BBS, JP
Chief Principal


---

Chief Principal - Dr. Maggie Koong's Biography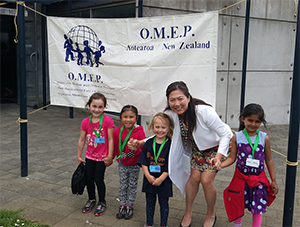 Dr. Koong is an internationally respected early childhood expert. She received her Master of Education from The University of Hong Kong and Doctor of Education from Durham University, focusing on bilingual education and early childhood development. She has over 30 years of extensive experience in educational practices and is currently the Chief Principal of our school and nine Victoria Kindergartens in Mainland China, as well as Co-Founder and Head of Victoria Shanghai Academy. During her career, Dr. Koong has made valuable contributions to raising the standards of early childhood education, care, living environments and child rights in Hong Kong, China and across the world. She is Immediate Past World President of the World Organization for Early Childhood Education (OMEP), an international professional body of early childhood educators with around 70 member countries. She was Vice-Chairperson of UNICEF-Hong Kong and a member of Committee on Free Kindergarten Education. She is presently President of OMEP-Hong Kong, a project advisor of the UNESCO and International Focal Point of its Collective Consultation of NGOs on Education For All (CCNGO/EFA) Coordination Group, a steering committee member of the Asia-Pacific Regional Network for Early Childhood (ARNEC), an NGO representative for the United Nations, Chairperson of International Play Association-Hong Kong Branch and a member of Equal Opportunities Commission. She is also Project Director of the "UNESCO-UNICEF China-OMEP Play and Resilience" world project.
In recent years, Dr. Koong has devoted her time and energy to advancing the quality of tertiary education and teacher training. She is a founding council member of The Education University of Hong Kong and a member of the university's Presidential Advisory Group. She also serves on the Council of The Chinese University of Hong Kong, Board of Faculty of Education of The University of Hong Kong and Board of Trustees of Whittier College, USA. She has been a guest lecturer at various tertiary institutes and a keynote speaker at academic and professional seminars and conferences, passing on her rich experience and enthusiasm for early childhood education to the next generation of professional educators.
Dr. Koong's achievements in education and community service have won her many accolades, including among others a Ten Outstanding Young Persons Award in 2000, a Bronze Bauhinia Star (BBS) from the HKSAR Government in 2013 and Honorary Doctorate of Humane Letters awarded by Whittier College in 2014. In 2015, she was awarded Honorary Fellowship by The Education University of Hong Kong in recognition of her enormous contribution to child development and education. Dr. Koong was recently appointed Non-official Justice of Peace (JP) by the HKSAR Government in June 2017 and awarded Honorary Fellowship by The Open University of Hong Kong in November 2017.